For nearly two decades, J.A. Ackley has delivered hard-hitting stories that dig deep beneath the surface. With an innate curiosity about how things work and what makes people tick, he thoroughly captures the essence of the subject through the creative use of words and photos.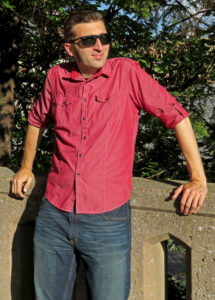 In April 2020, J.A. launched the media outlet Outside Groove. As its executive editor, he helped assemble an award-winning group of writers, photographers, and videographers to deliver creative, insightful, and relevant stories for the oval-track racing world. The Outside Groove has quickly become the fastest-growing media outlet in the motorsports realm.
From 2019 to 2020, J.A. wrote and photographed stories for Performance Racing Industry (PRI) magazine, OneDirt.com, and Turnology.com.
For more than a decade (2007–2019), he worked as managing editor of Speedway Illustrated. During that time, he and his team won numerous accolades. J.A.'s favorite moment came when his story on tire treatments in dirt late model racing won the 2013 Russ Catlin Award for Excellence in Motorsports Journalism, which had previously honored journalists from national outlets such as USA Today, The New York Times, CBS Sports, ESPN, and The Washington Post.
Prior to Speedway Illustrated, J.A. founded several successful news websites covering local auto racing scenes at the turn of the current millennium. In addition to his journalistic endeavors, J.A. has promoted auto racing events, worked as a PA announcer and in public relations for a traveling sprint car series, and managed a group of multimillion-dollar convenience stories for a major worldwide corporation.
While a lifelong learner, J.A. also earned a Bachelor of Science in Business Administration—Management from the Rochester Institute of Technology, with a concentration in Communications, and additional coursework in mechanical engineering, printing, and graphic design.
J.A., a New York native, currently resides in Knoxville, Tennessee, with his wife, Jess, and two dogs, Max and Jack. His hobbies include designing landscapes, restoring old houses, researching random topics, watching off-the-radar films and TV shows (especially foreign), learning new languages, and traveling.